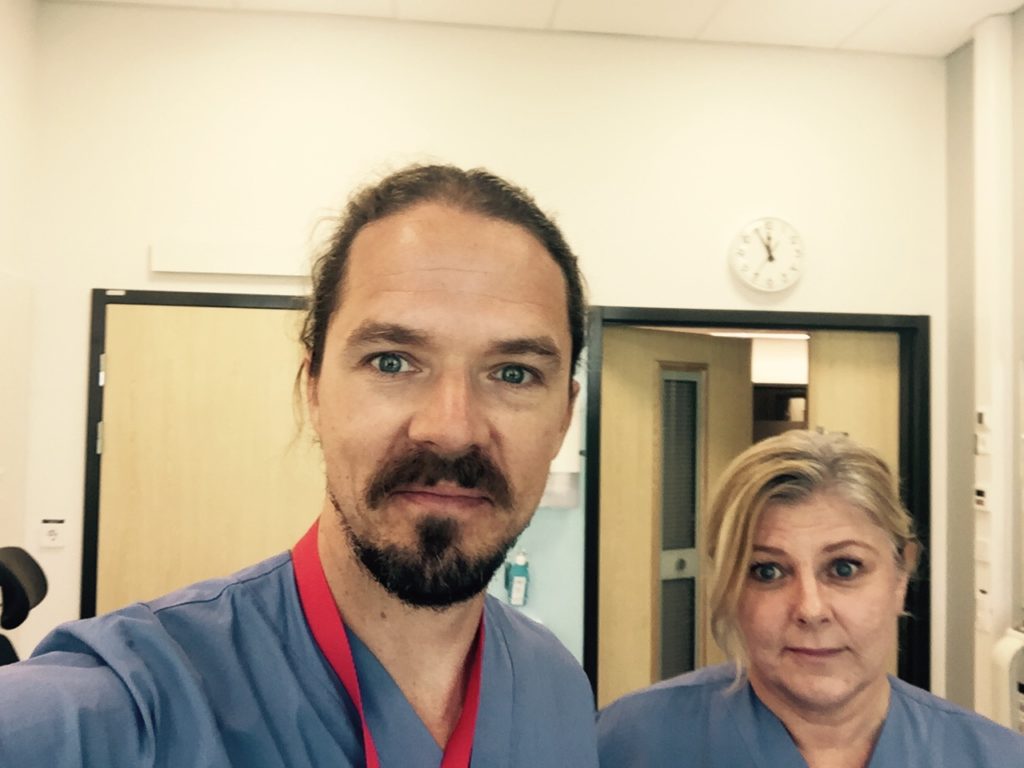 Interview with Henrik Ryftenius and Lise-Lotte Landenfelt-Gestre
In the Swedish town of Solna, two dedicated nurses work hard to make sure people with idiopathic pulmonary fibrosis (IPF) get the best care available. They take care of IPF patients in cooperation with other members of a specialized, multidisciplinary team. One of their goals is to educate patients and their relatives about IPF in a unique IPF school. 'Patients are very happy and satisfied with our educational programme.'
Henrik Ryftenius and Lise-Lotte Landenfelt-Gestre are two dedicated nurses working in the Karolinska University Hospital in Stockholm. In 2014, an outpatient clinic for patients with insterstitial lung disease (ILD) opened in their hospital, and they started to treat more and more patients with ILD. 'Close to 200 patients with interstitial lung disease (ILD) are connected to our service', Henrik says. 'About half of these patients have confirmed IPF, the other ones have another ILD or are under investigation for ILD.' Apart from the patients with ILD, the nurses also treat patients with pulmonary arterial hypertension (PAH) in their outpatient clinic, which is a division of the large pulmonary department of the hospital.
Different needs
'ILD-patients have many different needs', Lise-Lotte explains. 'Because they live with a chronic disease that also changes over time. It is very inspiring and challenging to help them in as many ways as you can.' Henrik adds: 'There is always something you can do to raise the quality of life of IPF patients. You just need to find out what the specific needs of each patient are.' To make sure every patient gets the help he or she needs, the nurses work within a multidisciplinary team.
'As nurses, we for example provide a lot of telephone support for the patients and their relatives. We talk about problems with the drugs they take, about the side effects and how to deal with them. We are the central figure in the communication with the patient, like an anchor. But in our team we also have a dietician, who can help when a patient loses weight because of energy-loss.' The team also includes an occupational therapist, for guidance in day-to-day energy management, a social welfare counsellor for psychological support and a physiotherapist.
IPF School
When patients are diagnosed with IPF, they get a lot of information about the disease. But according to Henrik en Lise-Lotte, this is sometimes insufficient. 'When patients first hear about the disease, they are scared', Lise-Lotte explains. 'We inform them about the team approach, but they get a lot of other verbal information and brochures. When we see the patients three months later, they might have forgotten about the team approach and haven't worked on their disease at all.' This finding was one of the reasons for the nurses to create a so called 'IPF school' for patients and their relatives. Henrik says: 'We already had experience with educating PAH patients and since two years we have the IPF school. In this school patients can directly meet the dietician or the physiotherapist and get advice. It's one thing to hand someone a brochure, but meeting an expert in person is something else.'
'There are five to ten patients in the educational groups', Lise-Lotte says. 'There are a total of three meetings, in which the patients can meet the team members. Meanwhile, their relatives attend a different group, because they might have other questions and needs.' According to the nurses, the patients are very happy and satisfied with the educational programme. One of the things they learn is the importance of physical training. This often inspires them to start participating in the physical training programme that is also offered to the patients.
Physical training
'We always recommend patients to attend our physical training group', Lise-Lotte says. 'The patients attend for both the training and the social interaction. They can meet other patients with the same disease and share experiences with someone who understands them.' Henrik adds: 'Both psychological and physical activity can help IPF patients. Some of the negative thoughts can disappear when you're physically active.' According to the nurses, seeing the quality of life of patients improve, for example because of the physical training, is one of the things that make their job enjoyable.
'There are many things that can make our day', Henrik says. 'For example to see how grateful the patients are with our approach. But of course it can also be hard when patients go downhill and get worse.' Lise-Lotte mentions a patient that really improved recently, after attending the physical training group. 'He is really feeling better and is getting stronger. From being alone and depressed, he openend up in the training group and is meeting other patients and is very thankful. It's great to see that rise in quality of life.' Henrik adds: 'Things like that are good to see. It's one of the reasons I like my job.' Lise-Lotte concludes: 'We really build a relationship with the patients. We follow them for years and get to know them well. I think it's a good feeling for them that when they call, we know directly who they are. That's good for us and good for them.'
Dit interview is verschenen in Belung Magazine, een uitgave van Boehringer Ingelheim.